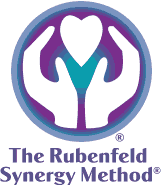 The Rubenfeld Synergy Method® is a dynamic and highly effective therapeutic process whose goal is to facilitate mental, physical, emotional and spiritual integration and health. Its innovative approach combines gentle touch and body awareness and movement with attentive dialogue and deep listening. Clients learn to befriend their feelings, set healthy and appropriate boundaries, address unresolved issues, free blocked energy, and access and utilize the power within.
Ilana Rubenfeld developed this process by integrating bodywork (Alexander Technique and Feldenkrais Method) and psychotherapy (Gestalt Therapy and Ericksonian Hypnotherapy). Her method gradually grew greater than the sum of its parts, becoming synergy. Rubenfeld Synergists are certified only after successfully completing a rigorous and well-supervised four-year training program and internship.
Our Center therapist, Rita, has been a Certified Rubenfeld Synergist since 2002. She holds a Masters in Pastoral Studies from Loyola University in Chicago; serves on the Board of Directors for the International Association of Rubenfeld Synergists; is a member of the DC Area Guild of Body Psychotherapists; and has over 35 years of training and experience in spirituality. Rita incorporates Neuro-Linguistic Programming, Doubling, Family Constellations, Dreamwork and Voice Dialogue techniques and principles in her work.
Rita passionately believes in the goodness and value of each person. She creates a safe environment where clients learn to become aware of their power and beauty by listening to memories, emotions, images, patterns, body sensations, spirit and energy. Clients appreciate that they are thoroughly listened to and that their thoughts and feelings are honored and validated. Rita artfully combines humor, gentleness and compassion with the principles, ethics, and unique methods of Rubenfeld Synergy to facilitate clients' growth in self-acceptance and love.